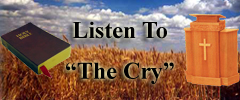 "The Cry"
- So what excuses do you make for not taking part in the Great Commission? Is it that evangelism isn't your "gift"? Is it that you just don't care? Or maybe you are too busy? Whatever your excuse is, if you are trying to make an excuse, you need to listen to this message by Kerrigan. This message is about the Church's responsibility to reach the lost with the Gospel of Jesus Christ (ALL OF THE CHURCH).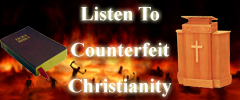 "Counterfeit Christianity"
- This teaching is for those who think they are saved or profess to be Christians, but really are NOT Biblical Christians. This teaching is important for two main reasons: 1) So that those who are "Counterfeit Christians" can come to a knowledge of the truth in realizing that they really aren't Christian. Then they can Repent and turn in Faith to Christ Jesus. 2) It helps the True Christian to see some of the "false gospels" that are being preached out there. This way they can make sure they are sharing a Biblical Gospel message with the lost.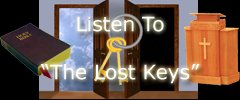 "The Lost Keys"
- Everyone has lost their keys before. Don't you hate when that happens? Sometimes losing your keys can have tragic results. You can be late for work, you might have to break a window to get back into your house or car, or you might just have to call a locksmith. Well, there is a key ingredient in Biblical Evangelism that has been lost for some time. Finding these keys and then putting them into practice Biblically will have a powerful effect!